Datensatz vom 09.07.2014
ESSEN The Game: SPIEL'13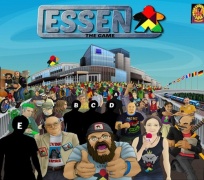 Details
Verlage:
Autoren:
Illustratoren:
Genres:
Spielmechaniken:
Release:
2014
Anzahl der Spieler:
2 bis 4 Spieler
Spielzeit:
60 Minuten
Altersfreigabe:
Frei ab 8 Jahre
Durchschnittswertung:
0

/

10

bei

0

Bewertungen

Every year in late October, the German city of Essen becomes the game capital of the world. Publishers around the world gather to showcase their innovations to the thousands of gamers who come especially for the occasion.
In ESSEN The Game: SPIEL'13, you play as one of those geeks. With your wish list (shopping list), you wander the aisles of the festival in search of the most popular new games — but to achieve your goals, you must face the harsh realities of this show. You must confront a pervasive crowd and make your way to the stands of your favorite publishers. Unfortunately, the availability of games is limited at the end of the show. You will likely not have the opportunity to buy all of your favorite games. Therefore, you will have to face difficult choices! On the other hand, you have come to Essen to try new games and your desires will change during the day. It is likely that after trying some of them, you will jump compulsively to new purchases.
Be careful not to take on more than you can carry. The increasing number of games that you hold in your bags reduces your mobility through the area. During the day, you need to return to the parking lot to store your purchases in the trunk of your car, which will probably also be the perfect time to check your budget. For all the big spenders, the cash dispenser is available, with the risk of running into debts beyond reason. With an empty bag and full wallet, you have only one thing in mind: Getting back in the show, frantic to buy more games.
ESSEN The Game: SPIEL'13 is an opportunity to live or relive a crazy day in the "Kingdom of Games"!
Dies ist ein Spiel-Datensatz. Bislang wurde noch kein ausführlicher Spieltest hinterlegt.
Momentan sind zu diesem Spiel noch keine Wertungen vorhanden.


Bilder
Momentan sind zu diesem Spiel noch keine Videos vorhanden.
Ähnliche Spiele
Per Doppelklick auf das Cover könnt Ihr zum Test des ähnlichen Spiels springen:
Leserkommentare
News