Datensatz vom 10.07.2014
The Battle at Kemble´s Cascade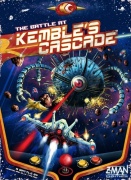 Details
Verlage:
Autoren:
Illustratoren:
Genres:
Spielmechaniken:
Release:
2015
Anzahl der Spieler:
1 bis 5 Spieler
Spielzeit:
45 Minuten
Altersfreigabe:
Frei ab 13 Jahre
Durchschnittswertung:
0

/

10

bei

0

Bewertungen

The Battle at Kemble's Cascade is a board game adaptation of a classic shoot 'em up video game. In the game, which is played out on a scrolling space backdrop, the players take on the roles of brave space pilots sweeping around in nimble yet powerful fighters, searching the asteroid clusters for universal glory and ancient technology. Players compete to obtain the most glory, with glory resulting from carrying out missions, finding lost treasure in asteroid clusters, and destroying alien entities, not to mention other players.
In the game, players fly through an ever-scrolling space setting, which is represented by rows of cards. Each turn, the bottom row is removed and a new row is added to the top. Players move their spaceships and resolve effects continuously, performing actions such as collecting power-ups and money, fighting alien cruisers and titans, blocking and shooting other players, and dodging asteroids and black holes. The players need to balance the use of their ships' energy as it's used for both absorbing enemy fire and boosting their movement speed and fire rate.
The game includes missions and achievements as well as a mechanism called "threat level" to keep everyone in suspense throughout the whole game. Threat allows players to enjoy the satisfaction of both shooting wildly at each other and dodging the hundreds of bullets raining down from enemy fighters and other players.
All player ships are fully upgradeable with four different weapon classes, engines, shields and more. Each player must buy the upgrades and navigate the path that best fits his chosen strategy in order to successfully complete his missions and attain the most glory.
Dies ist ein Spiel-Datensatz. Bislang wurde noch kein ausführlicher Spieltest hinterlegt.
Momentan sind zu diesem Spiel noch keine Wertungen vorhanden.


Bilder
Momentan sind zu diesem Spiel noch keine Videos vorhanden.
Ähnliche Spiele
Per Doppelklick auf das Cover könnt Ihr zum Test des ähnlichen Spiels springen:
Leserkommentare
News
RSS
Aktuelle News
Donnerstag 27.08.2015

Nachricht von 20:14 Uhr, Smuker, - Kommentare

Das Brettspiel "The Battle at Kemble's Cascade" ist seit ca. 1 Jahr in den USA erhältlich und nun kommt das Spiel was als Thema Arcade Computerspiele der 70er und 80er hat auch auf...

...
Weiter zu allen News