Datensatz vom 13.08.2021
Fantasy Ranch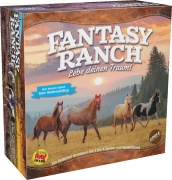 Details
Verlage:
Autoren:
Illustratoren:
Genres:
Spielmechaniken:
Release:
2021
Anzahl der Spieler:
2 bis 4 Spieler
Spielzeit:
10-75 Minuten
Altersfreigabe:
Frei ab 5 Jahre
Durchschnittswertung:
0

/

10

bei

0

Bewertungen

Vorwort
Willkommen auf der Fantasy Farm, zieht eure Stiefel aus und setzt euch zu uns um ein Spiel zu spielen bei denen all eure Träume rund um eine Farm und die Pferde wahr werden.
Englische Beschreibung:
Welcome to Fantasy Ranch! Kick off your boots and pull up a chair for a game where all your dreams of owning a beautiful ranch with a stable full of horses can come true. Take real-life ranching to the tabletop as you choose from a wide variety of actual horses, hire highly skilled hands, and expand your property by laying claim to some of the most beautiful land in the west.
With 3 levels of difficulty, Fantasy Ranch is a great game whether you're a greenhorn or grizzled. So saddle up your dream horse, compete in the most thrilling competitions, and use your winnings to build yourself the perfect Fantasy Ranch!
Fantasy Ranch is played over 5 rounds simulating a horse show season. Each round you will go to shows and try to build your ranch into the best around. Start by drafting a stable of 4 Horse cards. Choose from one of 6 double sided Ranch tiles where your horses will live - watch your stable grow with custom horse meeples.
On your turn select from 3 different actions to continue building your ranch. You can buy land, buy more horses or farm your ranch. Build up your property from a simple homestead to a wealthy land owner. Don't buy more than you can control or your neighbor might decide to move in and take it over.
Hire employees which give you additional actions or powers to help you meet your goals. Twist of Fate cards give you rewards if you can complete the requirements but act fast since other players could beat you to them.
Win shows by rolling dice based on your horses' show skills. Horses with more training will have an advantage but the dice represents how unpredictable horses can be!
Win trophies by collecting sets of horses, competing Twist of Fate, owning land, completing ranches, and taking over other players' property! The game mixes area control with resource management to create a light weight fun intro game.
Bonus Game! The Trail Ride:
Here at the Ranch, we know just how hard it can be to corral all of those younger buckaroos so we've included The Trail Ride where kids can either set out on their own or you can play with them. This game lets kids become the trail boss by making choices to compete in shows, raise foals, and buy and trade horses. With 3 skill levels, The Trail Ride can be played with children as young as 5 years of ages. It's a game that grows with your kid!
Dies ist ein Spiel-Datensatz. Bislang wurde noch kein ausführlicher Spieltest hinterlegt.
Momentan sind zu diesem Spiel noch keine Wertungen vorhanden.


Bilder
Momentan sind zu diesem Spiel noch keine Videos vorhanden.
Ähnliche Spiele
Leserkommentare
News