Datensatz vom 24.08.2019
Odyssey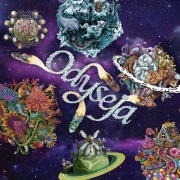 Details
Verlage:
Autoren:
Illustratoren:
Genres:
Spielmechaniken:
Release:
2019
Anzahl der Spieler:
1 bis 5 Spieler
Spielzeit:
15-30 Minuten
Altersfreigabe:
Frei ab 5 Jahre
Durchschnittswertung:
0

/

10

bei

0

Bewertungen

Vorwort
Cadets! You have always thought that THE UNKNOWN is far beyond humankind! Well, now it is not anymore, because you have reached the most mysterious and wackiest place in the whole Universe! You've reached ODYSSEY - a new galaxy created by Adam Kałuża and Przemek Dmytruszyński, developed by the LUPO space team associated by PASA (Polish Association of Space Arts).
Odyssey is a place where everyone can find something for themselves. It's a unique experience of playing an addictive game and having tons of fun even when you're losing it (imagine, what you would feel if you were winning!). It's a place where memory counts and has to be taken to the highest of levels, a place which memory games have never dreamt of, but now can get inspired by. Finally, Odyssey is the feeling of outwitting your opponents by creating the most complex and strategic memory combo in the world! Yes, Odyssey is a place for you.
Announced "one of the most beautiful games that have seen the light of day", Odyssey is a journey through oneiric galaxies where only the players' imagination is the limit. Derived from the memory archetype, Odyssey takes it to the next level by developing it into a strategic game of cunning moves. Odyssey is a spellbinding astral maze where everyone can have their own and unique galaxy. You say: cat; we say: here you are! You ask: superheroes? Our answer is the Superchildren's Planet! Odyssey is a game of a thousand of possibilities and approaches. It is four games in one box.
Odyssey is a game and a work of art in one. This masterpiece, diligently illustrated by Alicja Kocurek can be used in multiple situations, depending on the context. It allows you to become a storyteller or it can help you master your memorising techniques. But you can also admire its beauty and detail.
Having said that, Odyssey is a fascinating game of exploring hidden galaxies and outwitting the opponents to be the fastest cadet to gather all the mind crystals. To do so players need to discover, learn and memorise the hidden map of a galaxy and use this knowledge wisely. The trick is to travel as quickly as possible, but also not to reveal too much to others. Odyssey is also an extremely demanding and thrilling solo experience, where a cadet tries to collect the shards of mind crystals and not being devoured by the Black Hole Monster at the same time. This mode can also be played as a cooperative game. Odyssey will eventually let you take part in a thrilling space race where counting skills will be necessary. Odyssey will guaranty a highly playable experience and multiple variants of gameplay for 1 to 6 players.
Come, join our jourey and travel to the far and unknown parts of the Universe - join our Odyssey today and don't let the Monster get you!
Odyssey was succesfully funded via Polish crowdfunding at http://zagramw.to/odyseja
Dies ist ein Spiel-Datensatz. Bislang wurde noch kein ausführlicher Spieltest hinterlegt.
Momentan sind zu diesem Spiel noch keine Wertungen vorhanden.


Bilder
Momentan sind zu diesem Spiel noch keine Videos vorhanden.
Ähnliche Spiele
Leserkommentare
News