Datensatz vom 13.09.2013
Eggs of Ostrich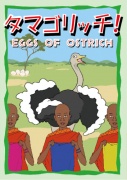 Details
Verlage:
Autoren:
Illustratoren:
Genres:
Spielmechaniken:
Release:
2013
Anzahl der Spieler:
3 Spieler
Spielzeit:
10 Minuten
Altersfreigabe:
Frei ab 12 Jahre
Durchschnittswertung:
0

/

10

bei

0

Bewertungen

Eggs of Ostrich is the name of the game, and ostrich eggs are what you're trying to claim.
The three players in this game each start with four sacks, numbered 2, 3, 5 and 7. They have five claim cards in hand, one for each sack and a "skip" card. Nine egg cards (valued 4-10) and three amber cards are shuffled, then two cards are removed from the game.
In each of the ten rounds, someone reveals the top card of the egg deck, then each player simultaneously chooses and reveals a claim card. All players who didn't choose "skip" divide the eggs equally amongst themselves, then place these eggs in the sack that matches the card they played. Each player then sets aside the claim card he used, leaving it out of play for the next round, after which it returns to his hand.
If an amber card is revealed, then if only one player plays "skip", he claims the amber, setting it next to his sacks; if no players or two or three players play "skip", then no one gets the amber.
If a sack ever holds more eggs than the number on the sack, it rips and all the eggs fall to the ground and break. Pity. That player covers that sack with the matching claim card, which is now out of play for him.
After ten rounds, the game ends, then players tally their scores. Each sack that holds exactly the right number of eggs is worth that many points; each sack holding fewer eggs is worth half as many points as the number of eggs in it, rounded down. Each amber is worth 4 points. The player with the most points is the ostrich egg champ!
Dies ist ein Spiel-Datensatz. Bislang wurde noch kein ausführlicher Spieltest hinterlegt.
Momentan sind zu diesem Spiel noch keine Wertungen vorhanden.


Bilder
Momentan sind zu diesem Spiel noch keine Videos vorhanden.
Ähnliche Spiele
Leserkommentare
News