Datensatz vom 23.09.2015
Perdition's Mouth: Abyssal Rift (Second Edition)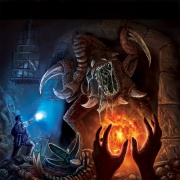 Details
Verlage:
Autoren:
Genres:
Spielmechaniken:
Release:
2017
Anzahl der Spieler:
1 bis 6 Spieler
Spielzeit:
30-180 Minuten
Altersfreigabe:
Frei ab 10 Jahre
Durchschnittswertung:
0

/

10

bei

0

Bewertungen

Perdition's Mouth: Abyssal Rift is a cooperative board game of tactical dungeon adventures for one to six players. Players take on the roles of heroes on a perilous quest to stop a vile cult of the insectoid god. Are you ready to guide your motley group of adventurers in the desecrated ruins of a dwarven city?
As a cooperative board game, Perdition's Mouth lets the players play as a team against the game's AI-controlled villains and monsters. Perdition's Mouth uses an innovative rondel mechanic for both hero and enemy action selection to provide a sense of a dynamic combat situation. The rules are streamlined and intuitive, so players can dive in quickly, but it will take countless replays to master the game's unique strategies. The game offers adjustable difficulty levels to challenge experienced tactical thinkers and newcomers alike.
"It is chockablock with brilliant, clever, fresh, new ideas that turn the tactical skirmish dungeon crawl on its head and makes a really wonderful experience." - Rahdo / Rahdo Runs Through
Perdition's Mouth is designed to be played as a story-supported campaign over several gaming sessions. In the campaign you have to fight through at least six increasingly challenging scenarios and the level of success during each adventure has a direct effect on the rest of the story.
Can you survive the labyrinth of the insectoid god?
Perdition's Mouth includes 64 highly detailed 28mm miniatures, six full color dungeon maps with alternate scenarios for each, over a hundred cards and two action rondels.
Perdition's Mouth is going to be in Kickstarter in Q4/2015.
Dies ist ein Spiel-Datensatz. Bislang wurde noch kein ausführlicher Spieltest hinterlegt.
Momentan sind zu diesem Spiel noch keine Wertungen vorhanden.


Bilder
Momentan sind zu diesem Spiel noch keine Videos vorhanden.
Ähnliche Spiele
Per Doppelklick auf das Cover könnt Ihr zum Test des ähnlichen Spiels springen:
Leserkommentare
News
RSS
Aktuelle News
Mittwoch 04.04.2018
Nachricht von 12:51 Uhr, Mathias, - Kommentare
Morgen, am 5. April 2018, startet in der Spieleschmiede der Spiele-Offensive die Kampagne zur deutschen Ausgabe von Perdition's Mouth:Abyssal Rift , welches bereits 2016 erfolgreich über...

...
Weiter zu allen News