Artikel vom 21.08.2007
Autor
: Kevin Jensen
Kategorie
: Interviews
Umfang
: 2 Seiten
Kommentieren
(0)
Interview mit den Zombies!!!-Machern

Deutsch
|
English
We talked with Todd und Kerry Breitenstein from Twilight Creations about their brain blasting Zombies!!! series. We asked them about their favorite zombie movies and what new adventures will await the shooting heroes of the comming board game.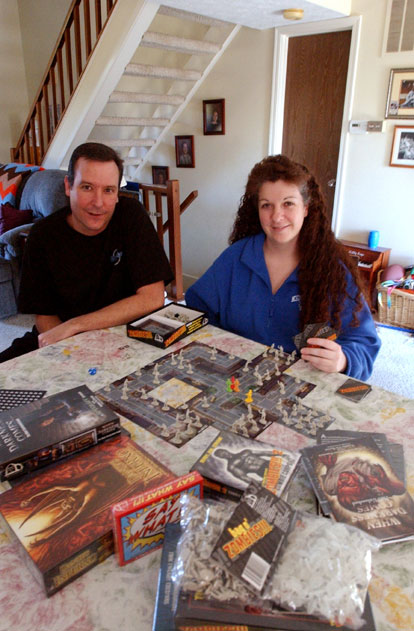 cliquen
abend.de: First of all can you introduce yourself and tell us a little bit about Twilight Creations and what other games besides the Zombies!!! series did you make until now?
Todd und Kerry Breitenstein:
Twilight Creations is run by Todd and Kerry Breitenstein (husband and wife). We are both answering the questions. We started the company in 2001 to continue the Zombies!!! game that Todd designed when working for Journeyman Press. We have since released quite a number of games including: When Darkness Comes..., Haunting House, Dante´s Inferno, All Wound Up, Hidden Conflict, MidEvil, Easter Island, ZombieTown, Gravediggers, Mmm...Brains, Say What and Award Show with expansions to some of these games.
cliquen
abend.de: When and why did you come up with the idea of making a Zombies board game?
Todd und Kerry Breitenstein:
We´ve always been huge fans of the zombie genre. And one night while playing a game that was way too complicated for us under the circumstances, Todd came up with the idea for Zombies!!!
cliquen
abend.de: How long did the actual development take place and how much longer did it take, to actually buy the game in stores?
Todd und Kerry Breitenstein:
It took about 9 months to develop the game and another 6 months before it hit the stores.
cliquen
abend.de: Can you tell us a little bit more about the released versions until now?
Todd und Kerry Breitenstein:
Each expansion for the game has a different theme/location. Zombies 2 is set in a military base. Zombies 3 is set in a mall. Zombies 4 is a standalone expansion that is set in a woods setting and includes zombie dogs. This set changes the rules a bit and also adds the necronomicon to the mix. You are trying to collect the pages of the necronomicon and make it to the cabin to undo the spell first. Zombies 5 is set in a college campus. This is the first set to add a new universal rule to the setting. This is the gut token. The guts tokens determine how many cards you can hold in your hand. The more guts, the more cards. Zombies 6 is a subway/sewer setting. This allows quicker movement around the city.
cliquen
abend.de: It is obvious, that you must be great movie fans. What are your favorite horror movies, video games or books and why?
Todd und Kerry Breitenstein:
We love George Romero´s movies, but we are also big fans of the Evil Dead movies. We´ve taken to some of the Japanese horror movies as well, but there is only so much that can influence our games without making it inappropriate for the teenage crowd. We can´t forget the Exorcist but more recently Saw and Hostel have entertained us nicely.
As far as video games, unfortunately we don´t get enough time to play too many. And our kids don´t let us get on the game systems. Silent Hill has been a recent favorite in the house.
But books are a different story. Kerry just finished the last of the Dean Koontz books, and it´s amazing that his books are not considered horror. She is currently reading Cell by Stephen King which is an absolutely awesome book.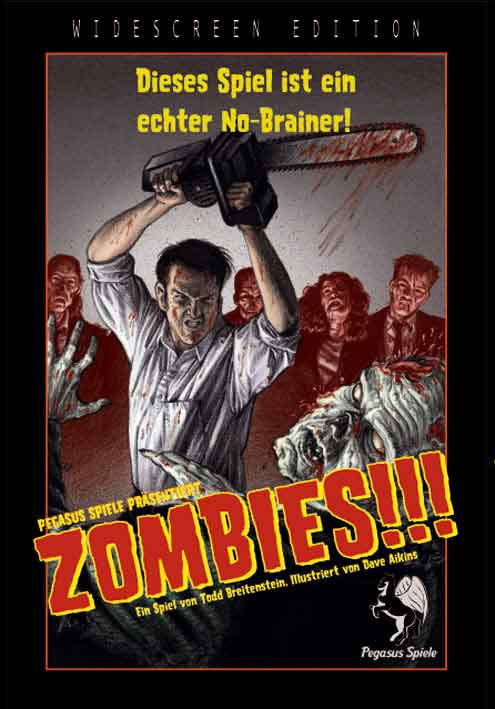 cliquen
abend.de: George Romero always tried to be a little bit critical of society. In how far did these kind of elements find their way into the games?
Todd und Kerry Breitenstein:
We leave those elements to Mr. Romero. We are just providing silly casual fun.
cliquen
abend.de: The number of Zombies!!! games is almost growing as fast as the video games and movies. Which one is your favourite part and what idea in sense of game mechanics did you recently like the best?
Todd und Kerry Breitenstein:
Currently, our favorite zombie game is Zombietown. It gives a real sense of impending doom. As the game progresses, the number of zombies moving increases. It gives zombie horde a whole new meaning.
cliquen
abend.de: What do you think is the key to success for a board game like Zombies!!!?
Todd und Kerry Breitenstein:
Our games appeal to a wider range of people rather than just the hardcore gaming niche. There are so many people who love the zombie genre, and we have provided a game that can be easily played by anyone. And many people like the cut throat feel to the game as well.
cliquen
abend.de: In how far are fans able to submit new ideas for future games, are their any fan-made elements included into current titles?
Todd und Kerry Breitenstein:
We listen to fans all the time, but generally what they have in mind is what we have in mind anyway. We are hardcore zombie fans as they are.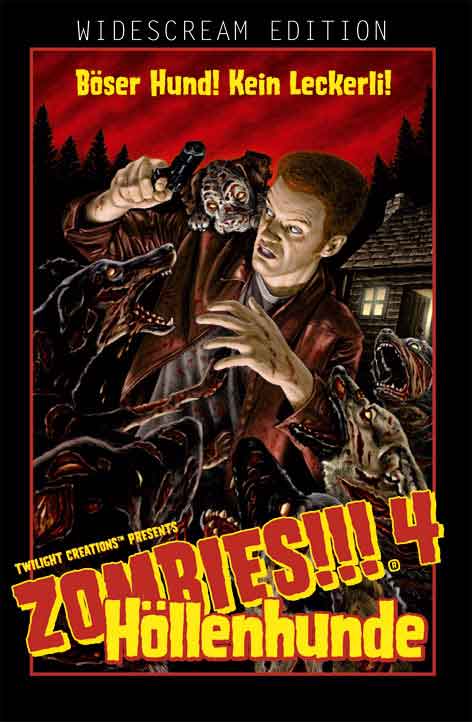 cliquen
abend.de: Can you tell us a little bit more about your future plans?
Todd und Kerry Breitenstein:
Our next release is Zombies 6.66 which is a blank tile and card set. This will be released for Halloween. Outside of that, we cannot discuss.
cliquen
abend.de: If you could be a supernumerary in a zombie movie, which one would it be?
Todd und Kerry Breitenstein:
We´d like to be a "mallwalker" in Dawn of the Dead.
cliquen
abend.de: Is their anything you would like to tell our readers?
Todd und Kerry Breitenstein:
Aim for the head.
The interview was held by Kevin Jensen for cliquenabend.de
Thanks to Todd und Kerry Breitenstein for their kind support.