Datensatz vom 05.08.2015
Forbidden Stars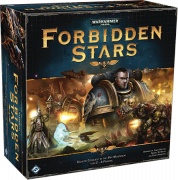 Details
Verlage:
Autoren:
Genres:
Spielmechaniken:
Release:
2015
Anzahl der Spieler:
2 bis 4 Spieler
Spielzeit:
120-180 Minuten
Altersfreigabe:
Frei ab 14 Jahre
Durchschnittswertung:
0

/

10

bei

0

Bewertungen

Forbidden Stars challenges you and up to three other players to take command of a mighty fighting force: the Ultramarines chapter of Space Marines, the Eldar of Craftworld Iyanden, the Evil Sunz Ork clan, or the World Eaters Warband of the Chaos Space Marines. Each faction offers unique armies and play styles, but your goal remains the same – to claim the key objectives selected for your faction. These objective tokens are scattered throughout the Herakon Cluster, but your opponents are sure to defend your objectives against you. You'll need to build massive armies and command them in unending war to best your enemies and claim your objectives. The fight for the Herakon Cluster is brutal and bloody, and you will either stride triumphant over the bodies of your fallen foes, or they will do the same to you.
Forbidden Stars is a Warhammer 40,000 board game for two to four players that challenges them to battle for the planets of the long-lost Herakon Cluster. Every turn, players must issue orders to their armies in the field, marshaling new armies and leading massive warbands on the road to war. Players can fight for the Ultramarines, the World Eaters, the Evil Sunz, or the Eldar of Craftworld Iyanden. Whichever faction a player supports, every game offers tense battles and cunning strategies.
Dies ist ein Spiel-Datensatz. Bislang wurde noch kein ausführlicher Spieltest hinterlegt.
Momentan sind zu diesem Spiel noch keine Wertungen vorhanden.


Bilder
Momentan sind zu diesem Spiel noch keine Videos vorhanden.
Ähnliche Spiele
Leserkommentare
News