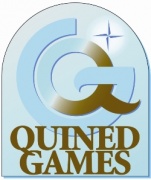 Homepage:
http://www.quined.nl/
Quined Games
Quined Games was founded in 2005 by brothers Arno and Frank Quispel, a lawyer and docter of medicine, both living in a small town near Rotterdam, the Netherlands.
The name Quined can be interpreted as 'Quispel Nederland' and as " 'k win 't ", Dutch for "I win it".

The first game that was published was a Dutch-French edition of Reef Encounter. After many years we managed to sell all our copies.
In 2007 Quined launched her Master Print Series. The first edition was Leonardo da Vinci.
The most recent member, number 14, of the series is The Golden Ages by Luigi Ferrini.
Frank has left Quined Games some years ago and Arno is still going strong. This year it is Quined's 10th anniversary.
We want to celebrate this by sharing great 2015 games with you.
RSS
Aktuelle News
Donnerstag 08.03.2018
Dienstag 23.01.2018
Freitag 22.12.2017
Samstag 21.01.2017
Montag 14.12.2015
Montag 16.02.2015
Sonntag 16.02.2014
Donnerstag 31.01.2013
Mittwoch 30.01.2013
Freitag 17.02.2012
Weiter zu allen News
vorstellung vom 07.03.2011
Spiel 2010: Era of Inventions (Quined Games)
vorstellung vom 17.02.2012
Die Spiel - Essen 2011: Alba Longa (Quined Games / Huch & Friends)
preview vom 21.01.2017
Essen 2016: Papà Paolo (Quined Games)
preview vom 21.01.2017
Essen 2016: Key to the City – London (Quined Games)
vorstellung vom 21.01.2017
Essen 2016: Vanuatu (second edition) (Quined Games)
regelerklaerung vom 22.12.2017
Agra (Quined Games) / Essen 2017
interview vom 23.01.2018
Haspelknecht: The Ruhr Valley deutsches Video (Quined Games) / Essen 2017
regelerklaerung vom 23.01.2018
Halloween (Quined Games) - deutsches Video / Essen 2017